Good morning to Captain and crew alike, and welcome to the Admiralty Docket. Today our subject is state court jurisdiction over vessels IN REM.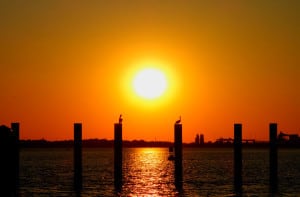 "A collision occurred between the steamboats HINE and SUNSHINE, on the Mississippi River, at or near St. Louis, in which the latter vessel was injured. Some months afterwards, the owners of the SUNSHINE caused the HINE to be seized while she was lying at Davenport, Iowa, in a proceeding under the laws of that state, to subject her to sale in satisfaction of the damages sustained by their vessel. The Code of Iowa, under which this seizure was made, gave a lien against any boat found in the waters of that state for injury to person or property." So began the case of The HINE v. Treavor, decided by the U.S. Supreme Court in 1867.
Proctors for the HINE challenged jurisdiction in the Iowa state court, asserting that Congress had provided the federal courts with exclusive admiralty and maritime jurisdiction by The Judicary Act of September 24, 1789. The Iowa Court disagreed and upheld the seizure of the HINE, in rem, under the "saving to suitors" clause of The Judiciary Act, which saved to suitors, in all cases, the right to a common law remedy. The steamboat HINE appealed, but the Iowa Supreme Court affirmed the lower court, concluding that the saving to suitors clause allowed state courts to exercise jurisdiction to determine maritime liens in providing common law remedies.
The HINE appealed to the U.S. Supreme Court, still challenging the jurisdiction of the Iowa state courts. The U.S. Supreme Court agreed and overrulled the Iowa Supreme Court, finding the remedy pursued in the Iowa courts was in no sense a common law remedy within the saving to suitors exception, but instead was a direct proceeding against the vessel to enforce a maritime lien, a remedy partaking of all the essential features of an admiralty proceeding in rem.
So the rule governs today: federal courts have jurisdiction over all admiralty and maritime cases and have exclusive jurisdiction over actions seeking admiralty remedies. But state courts have concurrent jurisdiction over admiralty and maritime cases, unless the parties seek admiralty remedies such as attachment under Rule B, seizure under Rule C, title as against the world under Rule D, or limitation of liability under Rule F of the Supplemental Admiralty Rules.
More next week on The Admiralty Docket. Until then, remember your rights and responsibilities may change as you approach the shore and may God Almighty grant you pleasant sailing.