Charleston, South Carolina Maritime Contract Attorneys
Whether you are operating a small business, negotiating for the purchase of a vessel, contracting for maritime employment or contracting for supplies — maritime contracts are a part of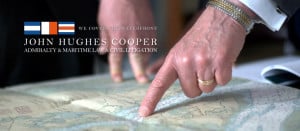 doing business. In order to properly implement your business decisions and fully protect your interests, it is important to contract with reputable parties, using contract forms drafted by knowledgeable legal counsel.
The Charleston law firm of Cooper and Bilbrey, P.C., offers decades of combined experience in admiralty and maritime law. Our lawyers have the knowledge and skill to provide effective guidance to clients, whether they need assistance with maritime contracts, landside contracts or any other legal agreement.
South Carolina Attorneys — Contract Review, Negotiation and Drafting
We assist vessel owners, captains, charterers, commercial shipping companies and other individuals and businesses in all aspects of contract formation, including contract review, contract negotiation, contract drafting and breach of contract dispute resolution. Our attorneys are adept at handling all types of maritime and vessel contracts as well as landside contracts for clients throughout coastal South Carolina:
Maritime contracts: Maritime contracts are governed by a unique body of laws, much of which are judge-made rather than statutory. Under maritime and admiralty laws, any oral agreement can be an enforceable contract. Our attorneys have extensive experience protecting the rights of clients in both oral and written maritime contracts, such as ship employee contracts, vessel supply contracts, charter contracts, vessel repair contracts, vessel insurance contracts, salvage contracts and any other contracts concerning vessel navigation, maritime employees, and aid or necessities provided to a vessel.
Landside contracts: While our law firm focuses on maritime and admiralty law, we have significant experience handling legal issues that are not governed by admiralty laws. We carefully examine the legal issue at hand to determine which body of laws apply and ensure our clients' interests are fully protected. We offer skilled legal counsel in the formation of landside contracts such as contracts for ship construction, dockage agreements or dock rental agreements (which may or may not be governed by admiralty law), vessel buy/sell agreements, contracts ancillary to a vessel purchase and other landside agreements.
Minimize Risk for Contract Litigation
At the Charleston law office of Cooper and Bilbrey, P.C., we can advise you of your rights, thoroughly explain proposed agreements and protect your interests in all other aspects of contract formation and enforcement. To talk with an experienced Charleston Maritime Attorney, schedule a free and confidential consultation. Call 843-883-9099 or send us an e-mail to arrange an appointment.
Contact Us About Your Case