Good Monday morning to Captain and crew alike, and welcome to the Admiralty Docket. A review of the weekend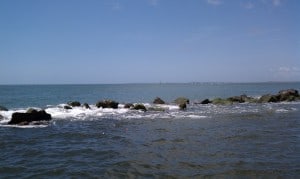 news provides a reminder that despite the many advances in navigational technology and preparedness in recent years, mariners must be ever vigilant on the water to avoid disaster.
The Charleston Post and Courier reports that, on Saturday night, a 34-foot Navy patrol boat struck the south jetty at the mouth of Charleston Harbor, disabling the vessel and injuring three sailors, one of which was flown to MUSC. Several Charleston rescue crews responded to the patrol boat's distress call, including the Charleston Fire Department's new rescue boat, the LOUIS BEHRENS, which was christened last November and carries an $850,000 price tag.
In route to the rescue, the 36-foot LOUIS BEHRENS struck an unknown object floating in the harbor which disabled the boat and caused it to start taking on water. A rescue vessel from the North Charleston Fire Department came to the rescue of the rescuers with a pump to stop the water intrusion and towed them back to the peninsula. The investigation is ongoing as to the cause of both accidents.
Read the full story here: http://www.postandcourier.com/article/20130415/PC16/130419542/1177/questions-remain-after-navy-and-fire-boat-accidents-in-charleston-harbor
More next week on The Admiralty Docket. Until then, remember your rights and responsibilities may change as you approach the shore and may God Almighty grant you pleasant sailing.
If you have a question involving admiralty or maritime law, call us at 843-883-9099 or email us for a free, free consultation with no obligation.