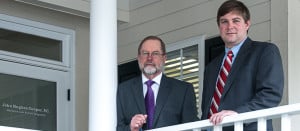 Over the years, the attorneys at John Hughes Cooper, P.C. have represented hundreds of clients in a wide variety of matters in state and federal courts. We offer the below case summaries and links to references and client reviews not as evidence that we will be successful in handling any particular case in the future, but rather to show prospective clients or attorneys who are interested in associating us  that we are experienced and knowledgeable advocates who can zealously pursue our clients' legitimate legal interests and give them advice that they can rely on in moving forward.
REFERENCES and CASES
Our clients, in their own words, on John Hughes Cooper PC:*
"John Hughes Cooper is uniquely competent, professional and ethical.
He is both the picture of toughness and civility. His intellectual savvy has tackled the most complex legal issues for me, while at the same time, never talking over my head.
He always returns my telephone calls and responds quickly to my questions. He doesn't just use past experience as his means for answering questions. He makes a practice of reviewing current law, and making sure that we are on solid legal grounds. He is my only choice for legal representation. I am so thankful I found him."

– Lisa F. 
"John is my "go-to" for everything maritime. John has assisted me on a number of matters…all of which had successful outcomes."
– Tony Young, Senior Vice President Tidelands Bank
"I have relied on John Townsend Cooper for matters both personal and business for over five years now. There is no other attorney I'd rather call when seeking legal advice or representation. Very few times have I had to go elsewhere—but only to another attorney he suggested—because that attorney specialized in a particular field of law relevant to my situation." Rodger Tully, Owner Acme Cantina, Inc.
"In the retail world we have to deal with dishonest customers who write bad checks, and Mr. Cooper helped us handle a very difficult situation." – Hanna Reed, Manager Habitat for Humanity ReStore Mount Pleasant
"I have used John Cooper for personal and business issues and would not hesitate to use him again!" – Robert S.
"Service with this law firm is exceptional. I was pleased to always have dealt directly with the attorney himself versus being redirected to a paralegal. I felt as though I always received information straight from the source." – Todd D.
"I feel very comfortable using John Hughes Cooper PC and disclosing to them my confidential information. I highly recommend them."  –Rodger T.
"Honest, trustworthy, and knowledgeable."

– Anonymous Client response.
* The above client testimonials were solicited by a survey to clients and former clients. Participants were not compensated for their responses. All cases are different; successful results in past cases do not mean that similar results are necessarily achievable in your case.
John Townsend Cooper:
John Hughes Cooper :
CASES:
Below are some highlights and links to various cases in which one or more of the attorneys at John Hughes Cooper, P.C. have been involved over the years. The results obtained in these cases should not be interpreted as a guarantee of a specific result or outcome of any particular case. The facts and circumstances of every case are different and the outcome of any case can depend on a variety of different factors.
Lambert v. U.S. Wick Drain, Inc., South Carolina Court of Common Pleas – 2012-CP-22-00238 – Suit on behalf of an excavator operator working on a barge near the Chesapeake Bay in Virginia. The Plaintiff was severely injured when wind and weather caused the excavator boom to fall off of its blocking and the boom's guy wire caught his leg and pinned it to the deck of the barge, severing the tibia and fibula. This case was resolved through confidential pre-trial settlement.
Peter Demetre Charleston Harbor v. U.S., et. al., 2:10-3081-SB, Entry 82 (D.S.C. 2013) – Suit over real estate donated to the City of Charleston for a park adjacent to Charleston Harbor resulting in a verdict for Plaintiff awarding affirmative, injunctive relief and attorneys' fees after trial on the merits in the United States District Court.
Bradford v. 2-W Diving Inc., et, al., 2:06-cv-02637-MBS (District of South Carolina) and Bradford v. 2-W Diving, Inc., et. al., 2:08-cv-04044-CJB (Eastern District of Louisiana) – Suits on behalf of a Jones Act seaman severely injured in a diving accident while working in the Gulf of Mexico. Resolved through confidential pre-trial settlement after extensive litigation in two separate lawsuits.
Dhevatara Beach Seychelles, Ltd. v. Bertram Yachts, Inc., et. al., 2:09-cv-2979-RMG (D.S.C. 2012) – Suit on behalf of a vessel owner against dealer and manufacturer involving claims for breach of warranty. Resolved through confidential pre-trial settlement.
McCutcheon v. Charleston Boatworks, Inc., 2010 WL 2431017 (D.S.C. 2010) – Suit on behalf of vessel owner against repair yard for breach of bailment duty and resulting damages to vessel when the vessel was returned to the Plaintiff's slip without adjusting the stuffing boxes, causing the vessel to sink. This case was tried in admiralty and resulted in a verdict for Plaintiff in the amount of $44,935.00, plus pre-judgment interest.
Huff v. P/Y MONKEY BIDNESS, 2:08-1364-PMD, Entry 51 (D.S.C. 2008) – Suit on behalf of dock slip owner to enforce maritime liens against a vessel through a RULE C arrest. This case involved claims of maritime trespass, for  necessaries, and for salvage. Resolved through settlement after post-arrest hearing setting bond for release at $425,000.00.
Sterling Equipment, Inc. v. Northstar Marine Corporation, 2:06-cv-1753-PMD, Entry 62 (D.S.C. 2008) – Counterclaim brought against barge owner for unseaworthiness after barges under tow started taking on water during adverse weather conditions encountered during tow offshore of Georgetown, SC. Trial in United States District Court resulted in a verdict for our client Northstar Marine for $83,550.00, plus pre-judgment interest.
Treanor v. Charleston Harbor Marina, Inc., 2:06-cv-2045-CWH – Suit on behalf of vessel owner against fuel supplier. Resolved through confidential pre-trial settlement.
Heyward v. Kern, et. al., 2002-CP-40-4698 – Suit on behalf of Conservator of incompetent to confirm incompetency at the time he deeded his home to an unrelated acquaintance for $5.00. Because he was incompetent to execute the deed, subsequent mortgages on the property obtained by unrelated acquaintance were avoided and Conservator entitled to value of home as against mortgage company after a week-long trial in the Court of Common Pleas.
Singleton v. CMH Homes, Inc., et. al., 2005-CP-10-05115 – Suit on behalf of homeowner against seller, builder, mortgage broker, and lender for various causes of action. Resolved through pre-trial settlement with some parties, through jury trial on the merits with mortgage broker, and through bench trial before the Master-in-Equity on the lender's foreclosure counterclaim.
Norfolk Dredging Company v. M/V AV KASTNER – WMN-02-662 (U.S.D.C., District of Maryland) – Suit on behalf of the family of a Jones Act Seaman killed while working in the Chesapeake Bay on a tug that collided with another vessel. Resolved through confidential pre-trial settlement.
GUSTO III Charters v. Royal Insurance Co., 2:00-cv-02205-DCN-WWD (D.S.C. 2001) – Suit against marine insurer for loss and denied coverage under marine insurance policy. This suit was tried in the United States District Court and resulted in a verdict in favor of the Plaintiff for full recovery.
Yarmouth Sea Products v. Scully, 2:94-cv-02496-SB (D.S.C., 1995) –  Suit on behalf of the owner of a vessel damaged in a collision. Verdict for plaintiff after trial on the merits finding Defendants 100% at fault. It was appealed to the Fourth Circuit, which upheld a majority of the verdict for the Plaintiff.
SC State Ports Authority v. Silver Anchor, S.A., et. al., 2:91-cv-01574-CWH – Suit to attach vessel under RULE B of the Supplemental Admiralty Rules. The District Court dismissed the suit for lack of admiralty jurisdiction. Plaintiff appealed and the Fourth Circuit Court of Appeals reversed. On remand, the District Court dismissed Plaintiff's breach of a maritime contract cause of action. Plaintiff again appealed and the Fourth Circuit Court of Appeals again reversed.