Good morning to Captain and crew alike and welcome to a special edition of the Admiralty Docket. Today, a report on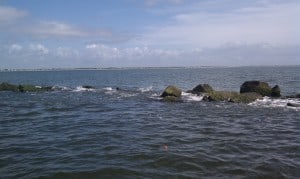 a local vessel in distress. Although there are not as yet an abundance of details, at approximately 7:15 p.m. yesterday, October 2, 2013, the Coast Guard base Charleston was contacted regarding a vessel in distress in Bohicket Creek near Rockville, SC. Apparently, a 22 foot recreational vessel began taking on water to such an extent that it eventually capsized. All four individuals on board were reportedly rescued and taken to Cherry Point.
Read more in the Post and Courier here:  http://www.postandcourier.com/article/20131002/PC16/131009845/1177/four-boaters-rescued-from-bohicket-creek
The continual happening of events such as the above locally should serve as a reminder to all of us on the water that there is always a possibility that a fun trip with family and friends on the water can go wrong, even under the best of weather conditions. It is also good to know that the Coast Guard is still up and running despite the ongoing shutdown of a large portion of the U.S. Government.
More next week on the Admiralty Docket. Until then, remember that your rights and responsibilities may change as you approach the shore, and may God Almighty grant you pleasant sailing.
WE COVER THE WATERFRONT
The attorneys at Cooper and Bilbrey, P.C. cover the waterfront in the area of admiralty and maritime law. If you are in need of a maritime lawyer in Charleston or in any other part of South Carolina, the law firm of Cooper and Bilbrey, P.C. has over 30 years of experience assisting those in South Carolina and other locations in the Southeast with admiralty and maritime law related issues. Please call or email us at any time for a free, confidential consultation.