Boating Safety: Cold Weather Outings – Part II
Good morning to Captain and Crew alike and welcome to another edition of the Admiralty Docket.  This week, your favorite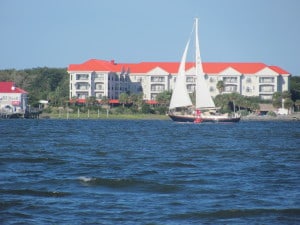 Maritime Attorneys pick up where our previous article left off on boating safety and cold weather outings by focusing on four tips to help make your next trip safe and uneventful. While there is no way to eliminate the possibility of running into trouble, here are a few tried and true tips to help you avoid being caught off-guard:
File a Float Plan: This can be as simple as telling someone where you are going, how you will get there, and when you will be back. It is much more difficult for rescuers to find you if they don't know where to start looking. Make sure to follow your plan.
Exorcise the Mechanical Demons: Off-season storage is bad for your boat and motor. Be proactive and prepared by making sure everything is operable before you leave. Engine failures due to ethanol in fuel are high on the list of problems, as are failure of rubber pieces and parts, from drain plugs to impellers to water and fuel lines.  Checking or replacing these items after long-term storage can increase your chances of having a safe and uneventful trip;
Take Reliable Communications Devices and Safety Equipment: This includes a cell phone in a waterproof bag, VHF Radio, first-aid kit, and life jackets. Also, make sure that you have marine signal devices (ie – flares, air-horns) that are not expired. A good anchor is a must, and for smaller vessels, paddles are helpful.
Listen to a Reliable Weather Report and Dress Appropriately: This is where your Maritime Attorneys often fall off the wagon. Temperatures on land may be quite warm during the day, but cold water means that the air will be cooler once you are underway, and windy conditions obviously make it feel much colder. Make sure you check a marine forecast rather than just your local weather, and dress appropriately. Hard-earned experience has taught us that cotton clothing is not a good fit for cold, wet conditions.
More next week on the Admiralty Docket. Until then, remember that your rights and responsibilities may change as you approach the shore, and may God Almighty grant you pleasant sailing.
The Admiralty Docket is a blog written by Charleston, SC Maritime Attorneys John Hughes Cooper and John Townsend Cooper which focuses on maritime legal issues and current events in South Carolina and the Southeastern United States.
Contact Us About Your Case
If you would like a free, confidential consultation with an attorney at our firm, or if you need assistance in finding the right attorney for your case, please fill out this form below:
<div class="cognito"><!-- [et_pb_line_break_holder] --><script src="https://services.cognitoforms.com/s/7OP6N1P2DkaL4T8WnrfFRA"></script><!-- [et_pb_line_break_holder] --><script>Cognito.load("forms", { id: "2" });</script><!-- [et_pb_line_break_holder] --></div>